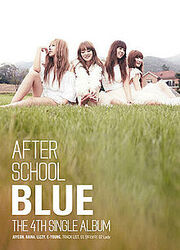 On 4 July 2011, it was announced that After School would be splitting into 'Red' and 'Blue' units as a part of their comeback project, with the Red unit having a "sexy, tough and fierce" attitude, and the Blue unit having a "fresh, sweet and refreshing" concept. They also revealed that fans attended one of After School's showcases would get a chance to vote on which members they want to be on each unit. The unit line-ups were finalized on 11 July 2011. The members of the Red unit were Kahi, Jung-A, UEE and Nana, and the Blue unit consisted of Juyeon, Raina, Lizzy and E-Young. Kahi is the leader of A.S. Red, while Juyeon is the leader of A.S. Blue.
History
[
]
2011
[
]
The groups were criticized for having the majority of the "popular" members (Jungah, Kahi, Uee and Nana) in one group with a "better" concept, and the "less popular" members (E-Young, Raina, Lizzy and Jooyeon) in the second group with a "boring" concept. These complaints were seemingly backed up when A.S. Red handily outperformed A.S. Blue - Red's song charting at 9th position, and Blue only managing to reach 15th position. Blue's album managed to chart higher than Red's - 18 to Red's 21, although Red sold a greater total number of albums.
A.S. Blue's song "Wonder Boy" was also accused of having been plagiarized from Fin.K.L's song "Forever Love" (even having the same ending line). Pledis Entertainment released a statement regarding the matter, saying: "It is true that we made it based on Fin.K.L's 'Forever Love,' which was sensational in the 90s. But it was intended to pay homage to the cute and innocent concept of the song, not to stir this plagiarism controversy.
'Forever Love' contains simple lyrics and catchy sound, which made it more widely popular. We wanted to recreate such type of positive influence through 'Wonder Boy.' If you compare their live performances, you will be able to see After School Blue's unique charms completely different from Fin.K.L's."
Discography
[
]
Singles
External link
[
]