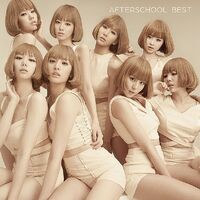 AFTERSCHOOL BEST is After School's second Japanese best album. It was released in three editions: a CD+LIVE DVD & mu-mo edition, a CD+MV DVD and a CD Only edition.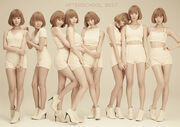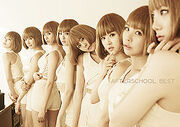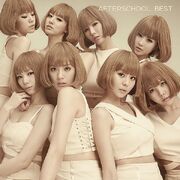 Just in time
SLOW LOVE
SHINE
Bang! Alternate Ver.
Diva Alternate Ver.
Because of you Alternate Ver.
Just in time Alternate Ver. (CD Only Bonus Track)
Tell me Alternate Ver.(CD Only Bonus Track)
Heaven REMIX (CD Only Bonus Track)
FLASHBACK REMIX (CD Only Bonus Track)
"CD+LIVE DVD" DVD Tracklist
- DVD AFTERSCHOOL JAPAN TOUR 2014 –Dress to SHINE- LIVE at LAFORET MUSEUM ROPPONGI
Mahou Shoujo (魔法少女)
Catallena (カタレナ)
Dress to Kill Dress Code
Triangle
rock it!
Genki Deshou (元気でしょう)
When I Fall
In the moonlight
Lucky Girl
SHINE
LOVE LOVE LOVE
Tell me
"CD+MV DVD" DVD Tracklist
Let's Do It!
Tap Slap
Just in time
Dilly Dally [LIVE CLIP]
Ms. Independent [LIVE CLIP]
SHINE [Lyric Video]
SHINE
SHINE [Behind The Scene]
"mu-mo" DVD Tracklist
AFTERSCHOOL Gakuensai 2014 Houkago-hen at Stellar Ball

Ms. Independent
rock it!

Jugyou-hen DIGEST (授業編DIGEST)
Kouishitsu Girl Talk (更衣室ガールズトーク; Dressing Room Girl Talk)
Community content is available under
CC-BY-SA
unless otherwise noted.