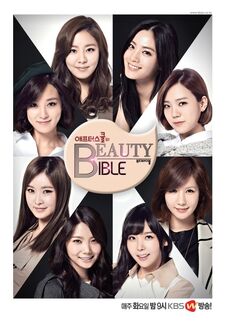 After School's Beauty Bible (애프터스쿨의 뷰티 바이블) is a program that exhibits After School's makeup know-how and distributes new information from members to viewers. The class will be in lecture format, and it won't be just the After School girls lecturing.
They're going to be working with experts in all aspects of beauty, and talking about all the information they've been looking at through their show. Both the experts and the After School girls are going to be talking about their own know-hows and secrets to beauty.
The first episode was aired on Dec 23, 2013 by network KBS WORLD. The show is also aired on the official KBS TV YouTube Channel.