Welcome to After School Wiki!

The wiki about After School that anyone can edit!
85 articles since October 27, 2013.
UEE confirms departure from After School and Pledis Entertainment
On May 31, UEE announced on her official fan cafe that she will be graduating from After School and penned a handwritten letter to fans and her fellow group members.
In her letter, UEE said, "It seems like it was just yesterday that I debuted through After School but it has already been eight years since then. My fellow members who were high schoolers at the time are now college students and my occupation has changed as well. I'm thankful to everyone at Pledis and am both thankful and apologetic to my fellow After School members. I will try my best to become a bright and hardworking UEE," she concluded.
UEE will be leaving Pledis after her contract expires at the end of this month. A representative from Pledis stated, "We hope that UEE will be successful in all of her endeavors. We will continue to cheer her on."
---
UEE announced to be dating with actor Lee Sang Yoon
On May 2, After School's UEE and actor Lee Sang Yoon officially confirmed their dating news! Lee Sang Yoon's label J Wide Company and UEE's Pledis Entertainment both confirmed the news and stated, "It is true that the two are dating.
They met at a gathering earlier this year, and are currently getting to know each other. Please give them support."
---
Kahi to get married

Former After School member Kahi is set to get married this month.
Her agency confirmed the news on March 14. She will be tying the knot with Yang Jun Moo, CEO of the lifestyle and bag brand Incase Korea. The private wedding will be held on March 26 in Hawaii.
The husband-to-be is a well-known figure in the fashion industry, and many know him as a skilled businessman with a witty character.
Congratulations Kahi!!
---
Jung-A graduated from the group

Jung-A has officially graduated from After School. Pledis Entertainment confirmed that Jung-A's contract with the agency has run its course, and the leader will be leaving the girl group after 7 years.
Pledis stated on January 28, "Jung-A's contract with the agency has ended, and she naturally graduated the team." As for After School, the agency added, "Currently, the company is discussing After School's activities."
---
January 23, an acquaintance of Hong Jong Hyun and Nana says that the two are a 'well-known couple'

It was recently reported that actor Hong Jong Hyun and Nana were in a relationship for nearly seven months, becoming a controversy due to Hong Jong Hyun's on-air relationship with Girl's Day's Yura on 'We Got Married'.
Since then, the two have already released official statements denying that they're in a romantic relationship.
The report goes on to quote the acquaintance who went further into how the relationship started. The acquaintance stated, "Hong Jong Hyun and Nana were going through personal issues around the same time.
And when the program 'Style Log' ended, Hong Jong Hyun was the first to show interest, and Nana accepted his feelings. In front of their peers, Hong Jong Hyun and Nana would call each other openly, using their names. Hong Jong Hyun calls Nana by her real name, Im Jin Ah. Usually, their dates take place around Gangnam, and they would take walks on the trails."
---
January 19, former After School member Kahi will be departing from Pledis Entertainment!
On January 19, a rep from Pledis told The Fact, "Kahi's contract recently expired, and she has left the agency. There was no disharmony. It ended on good terms. We think Kahi revealed her stance on Twitter well. We do not know what activities Kahi will pursue in the future at this moment, but we hope it goes well."
She wrote via Twitter, "It has been 6 years since After School debuted. That is also the amount of time it took to leave the agency. You've helped me to realize my dream and raised me when I was lacking, so I'm really grateful to everyone in the Pledis family. Wherever I am, I will work more diligently with a more mature self."
---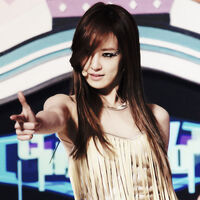 December 22, Juyeon will be leaving the group.
Her contract with Pledis Entertainment is expiring on the 31st, and she's planning not to renew the contract. She'll be leaving both the group and the label, and her last activities as After School will be the Chinese concert she has on the 31st.
An insider said, "As Juyeon acted continuously even when she was in After School, she wants to try various things including acting after leaving After School.
On December 31st, Pledis Entertainment updated After School's official homepage announcing that the decision has been made by the agency and Juyeon herself. It was decided that Jooyeon will be officially graduating from After School and is scheduled to take a break from the play, The Man From Earth.
With Juyeon's graduation, Jungah will be the only remaining 1st generation member following Soyoung, Bekah, and Kahi's departure in 2009, 2011, and 2012 respectively.
We'll miss you Juyeon!
---
}
The pictures in the members pages have to be a reasonable size. The pictures cannot be too big.
Do not re-upload pictures that have already been uploaded or posted.
You may either add to what others have written, make revisions to something, or begin something new on the wiki.
Use correct spelling and grammar on the wiki.
Use appropriate language. Do not use any language that could be interpreted as mean to others.
Do not erase a User's information or pictures on the members, singles and albums pages.
This is an open Wiki that anyone can edit. Accurate and helpful information is always welcome so feel free to add to or extend anything you see. Changes are monitored by other users and all edits can be reversed with a couple clicks.

To write a new article, just enter the article title in the box below.
<createbox> width=24 break=no buttonlabel=Create new article </createbox>
Not sure where to start?
Adding content
Talk and more...
Check out the community portal to see what the community is working on, to give feedback or just to say hi.
More editing notes and tutorial links can be found on the Help page.
Singles
Raina feat. Aron of NU'EST - Loop
...that After School is under a company, Pledis.
...that their company mate is Son Dam bi
...that Raina has been the powerhouse of After School ever since she joined.
...that After School was once a 5 member group. The original members were Kahi, Bekah, Jung-A, Juyeon and So Young.
...that Nana is the chic model of After School.
...that Juyeon used to be a ulzzang (best face).
...that Kahi picked the original members herself.
...that Kahi said that 2ne1's CL would like to be in After School.
...that UEE is the face of the group.
...that After School's concept was based off Morning Musume.
...that with Juyeon's graduation Jung-A is the only original member left.
PLEASE ONLY VOTE ONCE
After School Wiki Admin

| Username | Groups | Total Edits |
| --- | --- | --- |
| Mace33 | bureaucrat, sysop | Special:Editcount/Mace33 |
| Abridged-girl | sysop | Special:Editcount/Abridged-girl |
So what are you waiting for? Start editing....✌