Jurassic World: Dominion Dominates Fandom Wikis - The Loop
Play Sound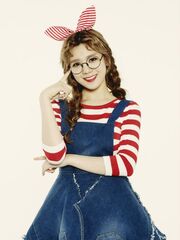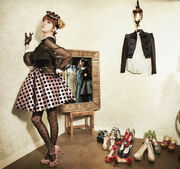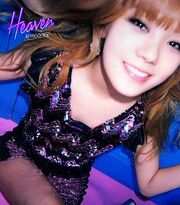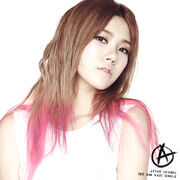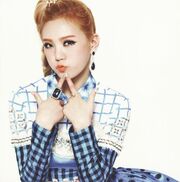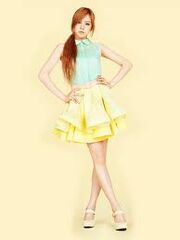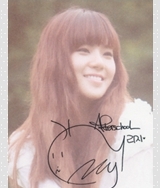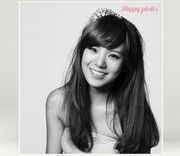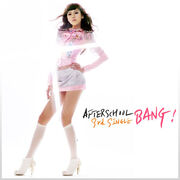 Park Soo-Young known by her stage name Lizzy (리지) is a Korean pop singer. She is a member of the girl group After School and of the sub units Orange Caramel and A.S. BLUE. She is also a member of the one-time unit Mystic WHITE. She made her debut in After School with the release of their third single "Bang!".
History
[
]
Before debut
[
]
Before her debut, she was first seen performing Fin.K.L.'s "To My Boyfriend" with the group during one of their showcases in early 2010.
2010
[
]
For a time she became the youngest member of the group and took the title as its new "maknae" which was previously held by fellow member Nana who was a year older than her.
In June 2010, she and her fellow After School members Raina and Nana formed a sub-unit named Orange Caramel and released their first mini-album titled "Magic Girl". The title track of the album was a hit in South Korea due to its dance and various celebrities have parodied it on TV.
A number of people have also uploaded videos on YouTube dancing to the song. This made the sub-unit a success. In September 2010, she was briefly part of the SBS variety show Running Man (런닝맨).
2011
[
]
She appeared on MBC "All My Love For You" in 2011.
2012
[
]
On January 6, 2012 it was announced that Lizzy and MBLAQ Lee Joon would become a dance couple for the MBC Lunar New Year special Pit-a-Pat Shake!, and on January 24 the episode in which they performend their acrobatic dance routine was broadcast.
On November, 2012 Lizzy was cast on the MBC weekend drama Rascal Sons as 'Yuri'.
2013
[
]
On February, 2013 Lizzy became the model for the make up brand 'Kiss me'.
2014
[
]
After School and Orange Caramel member Lizzy will be making her big screen debut through the upcoming movie "Today's Love." According to a movie industry official on August 1, Lizzy has confirmed her casting in the movie "Today's Love," and recently joined the rest of the cast and crew on set.
The movie's cast lineup consists of actor and singer Lee Seung Gi, actress Moon Chae Won, former announcer Park Eun Ji, as well as former T-ara member Hwayoung. It has been reported that Lizzy will be taking on the role of 'Min Ah,' a bright and charming character that will breathe life into the movie's storyline. Previously, the After School member has displayed her acting through sitcoms and dramas, such as "All My Love For You" and "Rascal Sons," however, this will be her first time appearing on the big screen with "Today's Love."

To arouse curiosity for their upcoming episode, KBS 2TV's 'The Human Condition' is hinting that Lizzy may be talking about a relationship she's been in recently!
According to the show, during the recording for the episode airing tomorrow, Lizzy's group members kept throwing questions at her which resulted in the revelation of her past dating experiences.
She apparently revealed, "Just recently, a relationship I was in ended... Someone I dated in the past personally baked a cake for my birthday and even initialed my name on it, so I was touched." She also hinted that she had received a hat that said "Today's my birthday" on it, causing the members to scramble to guess when this dating period may have been.
2015
[
]
On January 23, 2015, Lizzy made her solo debut with the trot song "Not An Easy Girl". The music video uses footage from the 1961 film adaptation of Chunhyangga, with Lizzy playing the protagonist.
On January 24, Lizzy was a special host on Show! Music Core.
On February 13, Lizzy and Park Myung Soo released their collaboration for "Goodbye PMS".
On August 26, MBC's Chuseok Special 'Duet Song Festival' announced that Lizzy would preform with 8 girl group members and with lucky fans.
Korean Discography
[
]
Japanese Discography
[
]
Orange Caramel Discography
[
]
Discography
[
]
Singles
[
]
[2012.12.17] Cupcake Project (Lizzy & Andup)
[2015.01.23] I'm Not An Easy Woman - Solo Debut
[2015.02.13] Goodbye PMS (Lizzy & Park Myung Soo)
Soundtracks
[
]
[2011.05.09] All My Love OST (#2 Beautiful Girl)
Works
[
]
Music videos
[
]
[2010.07.09] Teen Top - Baksu (Clap)
Television
[
]
Dramas
[
]
Magazines
[
]
Cover girl
[
]
[2013.14.01] MK
[2013.12.02] Kiss Me
[2013.18.09] Mixxo
Trivia
[
]
After appearing twice as a guest (two episodes in a row) on the TV-Show Running Man, in November 15th it was announced that she became a fixed cast member of the show, however, she later left the show in January 2011.
Used to be a trainee in JYP Entertainment.
Was a back-up dancer for Son Dambi's Saturday Night.
Was introduced by Pledis through an intro clip in which she sang Rihanna's "Take A Bow".
Featured in Teen Top's "Clap" music video.
Made a first featuring performance with rapper Defcon in "How to Leave the Rapper" on SBS Inkigayo.
Was a fixed cast member of SBS variety show "Running Man" in 2011.
Starred on MBC's daily sitcom, "All My Love For You" as Park Soon Duk in 2011.
Participated in "Beautiful Girl", an original soundtrack for the MBC daily sitcom "All My Love For You" in 2011.
She is the most cheerful member out of all members.
She's close friends with A Pink's Son Na-eun.
Gallery
[
]
Honorary Titles
[
]
External Links
[
]
After School
Members
Nana
Former Members
So Young, Bekah, Kahi, Juyeon, Jung-A, UEE, Lizzy, Raina, E-Young, Ka Eun
Albums
01 ,02, 03, 04, 05
Korean Singles
01 ,02, 03, 04, 05, 06, 07, 08, 09, 10, 11, 12, 13, 14
Japanese Singles
01 ,02, 03, 04, 05, 06
Related Units
Orange Caramel, A.S. RED, A.S. BLUE, Unit ver. 2
Orange Caramel
Members
Raina (L), Nana, Lizzy
Korean Albums
01, 02, 03
Korean Singles
01, 02, 03, 04, 05, 06, 07, 08
Japanese Albums
01
Japanese Singles
01, 02, 03
Related Units
After School (group), A.S. RED, A.S. BLUE, Unit ver. 2