Jurassic World: Dominion Dominates Fandom Wikis - The Loop
Play Sound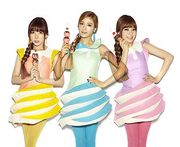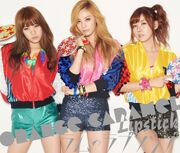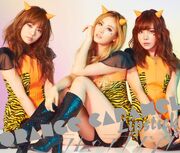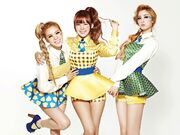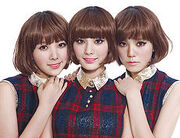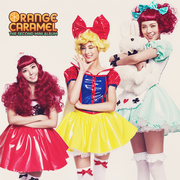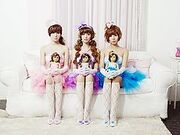 Orange Caramel (오렌지캬라멜) was a sub-group of the Korean pop girl group After School. They debuted in Japan under Avex Trax.
Members
[
]
History
[
]
2010
[
]
Orange Caramel is the first sub-unit announced and debuted from After School. On June 6th, 2010, Pledis Entertainment announced Nana as the first member of Orange Caramel. Each of the following members were announced individually, with Raina announced as the second member on June 7th, and Lizzy as the final member of the group on June 8th.
Nana, Raina and Lizzy were at that moment the youngest members from After School, and they were selected because the innocent and cute image of the new unit.
Their debut mini-album, just titled The First Mini Album, was released on June 17, 2010. The music video of the lead track, "Mabeop Sonyeo" featured CNBLUE's drummer Kang Min Hyuk.
Their second mini-album, just titled The Second Mini Album, was released on October 18th.
2011
[
]
They are inspired by the cities of each Asian country project: Bangkok City. The single was based on the capital of Thailand, Bangkok. It was released on March 31, 2011. The video features the appearances of Jung Ah of After School and JR of NU'EST. This video was the most successful of the group being the number one in internet searches. The single reached third place, being therefore the most successful of the group to date.
Shanghai Romance: Single inspired by Shanghai, the most populous city in China. Posted on September 30, 2011. The lyrics were written by Heechul of Super Junior and has the appearance of Hyun Min, NU'EST vocalist group, which peaked at number 8.
2012
[
]
Although a Japanese version of the song "Shanghai Romance" was released as a bonus track on the album debut of After School in Japan, "PlayGirlz" this was not its official debut in Japan.
Orange Caramel officially debuted in Japan on September 5, 2012 with the single "My Sweet Devil" which included the song Yasashii Akuma and Magic Girl Japanese Version, and the instrumentals of each song.
2013
[
]
On March 6, the group relesed their first japanese digital single Cookie Cream & Mint.
2014
[
]
Orange Caramel is going to return in February when After School (group) finished their promotions in Japan. In February 2014, they announced their third single Catallena.
They made a follow-up comeback music video for their single, Abing abing, on May 20, 2014.
Orange Caramel who recently released Abing abing for Baskin Robbins is bringing in more endorsement deals. They have become the models for a KakaoTalk game, Dragon Blaze (별이되어라!). [1]
Orange Caramel will be having another new release as they have revealed the release date for their fourth single 'Do It Like I Do'!
It will drop on August 18 and feature the cheerful and fun characteristics that are unique to Orange Caramel.  The girls' reps mentioned, "We prepared an easy choreography that anybody regardless of gender or age can follow."
On September 7, Orange Caramel filmed the Chinese variety show 'Day Day Up'! The trio performed "Catallena" on the show, dressed in their cupcake outfits.
On 11 September they announced a cheerful OST "Tonight" for the drama "It's Okay, That's love".
On 8 Mart, the Billboard's "2015 Girl Group Week" poll, 2NE1 and Orange Caramel reach the TOP3 in multiple categories thanks to dedicated fans and their voting. Orange Caramel obtained first place in "Most Underrated Girl Group," holding 50.2% of the votes.
Korean Discography
[
]
  Albums
Mini-Albums
Singles
Digital Singles
Japanese Discography
[
]
Albums
Singles
Digital Singles
Other
[2012.03.14] After School - PLAYGIRLZ (#12 Shanghai Romance Japan Ver.)
Works
[
]
Magazines
[
]
[2010.7.10] Men's Health
[2011.12.5] INKIGAYO
[2012.9.17] ceci
[2013.23.3] Nylon
Collaborations
[
]
Photobooks
[
]

Awards
[
]
[2010] 1th Korean Visual Arts Festival - Photogenic Award
[2012] SBS MTV Best of the Best: Best Comic Video - "Lipstick"
Gallery
[
]
Total Sales Count
[
]
| | | | |
| --- | --- | --- | --- |
| Year | Group Sales | Collaboration Sales | Total Sales |
| 2010 | 2,435,063 | 0 | 2,442,516 |
| 2011 | 3,431,648 | 0+ | 5,874,164 |
| 2012 | 1,739,170 | 0+ | 7,613,334 |
| 2013 | 7,732 | 0+ | 7,621,066 |
| 2014 | 566,273+ | 0 | 0 |
External links
[
]
Orange Caramel
Members
Raina (L), Nana, Lizzy
Korean Albums
01, 02, 03
Korean Singles
01, 02, 03, 04, 05, 06, 07, 08
Japanese Albums
01
Japanese Singles
01, 02, 03
Related Units
After School (group), A.S. RED, A.S. BLUE, Unit ver. 2