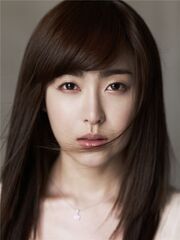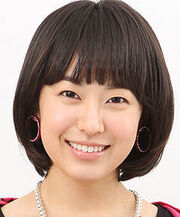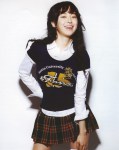 Yoo So Young (유소영) is a Korean actress and singer. She is a former member of the girl group After School, she left the group in October 2009 in order to pursue her acting career.
History
[
]
2012
[
]
On the 30th, Yoo So Young attended the '49th DaeJong Film Festival'. The actress stepped onto the red carpet in a lingerie-like, black mini-dress with off-the-shoulder straps, capturing the attention of all in attendance.
It's not the first time the actress' style has raised eyebrows, however. This past April, she also garnered attention at the '13th JeonJu International Film Festival' with her red mini-dress.
2015
[
]
On 22 April 2015, So Young posed for International bnt.
On 19 May, she was casted in the drama High Society together with After School member UEE.
On Novembe 11, So Young confirmed she′s dating Tottenham Hotspur soccer player Son Heung Min.
Korean Discography
[
]
Singles
[
]
Digital Singles
[
]
Trivia
[
]
She's the first one to graduate from After School, last 2009.
She is born on the 29th of March 1986, her starsign is Aries.
She is 165 cm tall and weighs 44 kg.
Her birthplace is Seongnam, Geonggi.
She is a sub-vocalist of After School.
She's the first one to graduate from After School, last 2009.
Soyoung's last event with After School was on 09.11.03. On that day, all of the members were present.
She studied in Chung-Ang University, Theater and Cinema Department.
She studied her High School in Sunhwa Arts High School, specialized in ballet and music.
Her hobbies include writing, also specialized in Korean Traditional Dances.
She also studied in Seoul Arts High School, specialized in acting.
She is the last one to join After School.
She was nicknamed as 'Vitamin' or 'Vitamin C'.
SoYoung once lost her heel while performing Ah!
Professional Entertainment said that she'll be promote both as Singer and Actor
There's a high possibility that she'll return as a ballad singer.
Soyoung still hangs out with the After School members and they also monitor each other. They're still close.
She is also close with Raina, who was a trainee when she was in After School.
After Soyoung graduated from AS, she went on vacation; went to Disneyland in Tokyo, went shopping and had a great time.
She has a brother.
After completing their promotions for Diva, Soyoung took acting lessons. She realized her dream was to act, not sing.
Soyoung saw the musical 'Mozart' (which has DBSK's Junsu in it) and loved it.
She likes the Toykino store.
She likes to eat 'bap'/rice.
Soyoung is friends with Jewelry's Jooyeon ever since they were little and their mothers knew each other.
Soyoung did ballet with Jewelry's Jooyeon when they were younger.
Soyoung knew Jewelry's Eunjung ever since her pre-debut days and they've been close ever since.
Soyoung once appeared on a TV show in Kindergarten, wearing a bee outfit.
Soyoung's blood type is AB.
Soyoung loves pretty dolls that are big.
Soyoung's ideal man is someone who will look at her, only think she's pretty and has a good humour.
Soyoung has a lot of dolls. She has a big doll and seems to love it the most.
Soyoung hugs her big teddy bear when she sleeps.
Soyoung did a cf in Postal Savings (2012).
The first person she followed on twitter is Super Junior's Yesung.
Her only favorite tweet is 2am's Changmin tweet ' セリナ!じんない~だめ'.
SoYoung was one of the guest in Bekah's goodbye party.
SoYoung signed in Professional Entertainment.
After School did a cameo in Your'e Beautiful (2009) as Before School, she along with Kahi, JungAh, Jooyeon & Bekah since U-ie is already part of the drama.
She is part of the cast in 2002, Wet Dreams.
Her first acting role as an actress is as Lee Sera in 'The Bittersweet Life'/'Women of our Home'.
Her second acting role is on Dream High 2 as Park Soon Dong (2012).
Her role in Dream High 2, is a crazy student who has the ability of fortune telling and claimed to be a Shaman.
External links
[
]