Jurassic World: Dominion Dominates Fandom Wikis - The Loop
Play Sound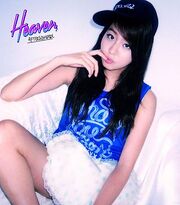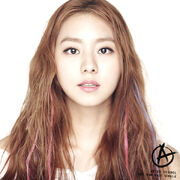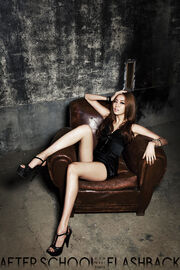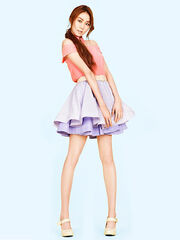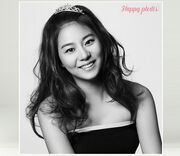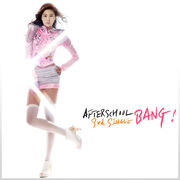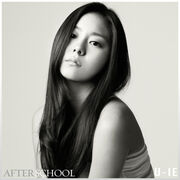 Kim Yu-Jin, known by her stage name Uee (유이) is a Korean Pop singer and actress. She is a former member of the Korean girl group After School and the sub-unit A.S. RED. She was also a member of the joint group 4Tomorrow.
History
[
]
Before dubut
[
]
Uee was listed to appear with a girl group called Five Girls ("Oh So Nyuh" in Korean) which included the current Wonder Girls member Yubin, the current Secret member and leader Hyosung, the former T-ara member and current Spica member Yang Jiwon, and the current solo artist G.NA. However, the group disbanded before their scheduled debut in 2007 due to the financial troubles of their entertainment company (Good Entertainment, which included the group Shinhwa).
However, she reappeared on television as a guest in Introducing A Star's Friend as Wonder Girl's Yubin's friend. Because "Five Girls" was not known to many people, she was simply seen as a very pretty friend of Yubin who resembles Wonder Girls youngest member Sohee.
2009
[
]
In April 2009, Uee joined the girl group After School (group) with their single "Diva".
In July, Uee was cast for MBC's historical drama, Queen Seon Duk which was well received and won various awards. In August, Uee appeared in Mighty Mouth's music video for "Love Class" with Hyuna from 4minute, after which she was cast for SBS's You're Beautiful playing Yoo He Yi. Later that month, she joined the group, 4Tomorrow, releasing the song, "Dugeunduguen Tomorrow" (Korean: "두근두근 Tomorrow", "BeatBeat Tomorrow") on October 6, 2009.
The project was composed of Uee, Seung Yeon (Kara), Hyuna (4minute) and Gain (Brown Eyed Girls). She later joined the reality show, We Got Married and was paired with Park Jae Jung. In early February, Uee was cast for MBC's "chivalry" drama, Birdie Buddy (Korean: 버디버디).
2011
[
]
In 2011, she co-hosted the show called Night After Night with Park Myung-soo, Tak Jae-hoon, Kim Je-dong, Daesung from Big Bang and Jung Yong-hwa from C.N.Blue. She is currently a permanent cast of SBS's variety show Barefooted Friends alongside Eunhyuk, Kang Ho-dong, Kim Bum-soo, Kim Hyun-joong, Yoon Jong-shin,and Yoon Si-yoon.
Uee released her first solo single "Sok Sok Sok" on June 21, 2011.
2012
[
]
Actor Joo Won couldn't stop complimenting UEE, whom he is coupled with in the KBS 2TV drama "Ojak Brothers".
Joo Won recently had an interview with Yonhap News and said, "UEE works really hard. I've seen her since school and she was always a striking junior of mine. We met for the first time in a while through this drama and I was curious if she had changed, but she had not at all".
Joo Won and UEE are from the Department of the Performing Arts in Sungkyunkwan University.
He said, "She was very concerned about the fact that she was a singer turned actress. Now that she's playing the role, every one is nice to her because she works so hard".
He said that he felt bad for her when she had to go through her After School schedule along with the drama.
"She seemed really tired at the end of the year I felt so bad for her. But surprisingly she was like a super-human and did everything. I think she's doing a very good job".
2013
[
]
On October 16, 2013 it was announced that UEE would be in a new drama called Golden Rainbow which will will premiere on November 2.
2014
[
]
In an interview with Ilgan Sports on April 1, UEE hinted that she may be graduating from After School fairly soon in order to focus on her acting. UEE revealed her plans after graduation: "After graduation, I want to focus on acting. That's why I find every performance at events precious now. It's more poignant now that I think there isn't much time left for me on stage."
After School's Uee was the host for the recently aired "2014 Supermodel Contest" on October 13, where she MCed alongside Han Go Eun and Choi Ki Hwan.
Uee's voluptuous figure has garnered the public's attention, especially with her full-length glamorous black dress. The partial see-through and velvet look on the dress with her point-makeup of red lips has truly frenzied the fans.
This year's contest has been very competitive as there has been the largest number applicants for the first time in 23 years. The crown of the night has been honored to the winning contestant Koh Yae Sul. The show has been decorated by various K-Pop stars including performances by Jay Park, Girl's Day, Ailee, Roy Kim, Block B, and many more musicians.
Uee will be returning to dramas through tvN's new Monday-Tuesday drama 'A Pushover's Love'!
UEE will play Kang Ho Gyeong, a hyper, passionate girl. She used to live life carelessly during school, but she meets a man who changes her life completely. The drama will start airing in February next year.
tvN's upcoming drama, Hogu's Love, revealed their main poster featuring Uee and Choi Woo Sik.
On February 24, she was in an ad campaign for sunglasses brand VEDI VERO.
On 18 May UEE was casted in the drama High Society together with former After School member So Young.
On July 29, Pledis Entertainment stated "UEE is confirmed to appear in the female edition of 'Shaolin Clenched Fists.'  The date for her to leave the country has not yet been decided on."
On 8 September it was announced that UEE will be attending Seoul Drama Awards.
2016 
[
]
Uee will be starting in MBC's Marriage Contract, that is scheduled to begin airing on March 5, 2016. Her character, Kang Hye-soo, is a single mother with a terminal illness who enters into a contract marriage
On May 2, it was announced that Uee is in a relationship with actor Lee Sang Yoon, and that they're passionately in love.
2017
[
]
Uee's contract with Pledis Entertainment ended on 31 May 2017, therefore she graduated from After School.
In June 2017, Uee signed with new management agency Yuleum Entertainment.
On July 14, 2017 Uee's agency confirmed that she and Korean-Japanese singer and TV personality Kangnam are in a relationship. They appeared together in a South Korean documentary based reality show Law of the Jungle.
Korean Discography
[
]
Japanese Discography
[
]
Works
[
]
Digital Singles
[
]
[2009.09.24] Insa - Yeon·Ae·Byeol (人事 - 緣·愛·別) (Jun Jin, UEE, SUKI)
[2011.06.21] Le Coq Golf Collaboration, U-ieui SokSokSok (르꼬끄골프 콜라보레이션, 유이의 쏙쏙쏙)
Dramas
[
]
[2009] Queen Seon Duk
[2009] You're Beautiful
[2010] My Girlfriend is a Nine-Tailed Fox cameo
[2011] All My Love For You
[2011] Birdy Buddy
[2011] Ojakgyo Family
[2012] Jeon Woo Chi
[2013] Golden Rainbow
[2015] Hogu's Love
[2015] High Society
[2016] Marriage Contract
[2016] Night Light
[2017] Manhole
Television
[
]
[2009]We Got Married
[2010] Night After Night
[2011] Running Man
[2012] Music Bank
[2013] Barefooted Friend
[2013] Running Man
[2014] Law of the Jungle in Indian Ocean
[2015] Running Man
[2015] Seventeen project
[2015] Infinity Challenge
[2015] Fists of Shaolin Temple SBS
[2017] Law of the Jungle in New Zealand
Music Videos
[
]
[2009.04] Jo Sung Mo - Geunyeoreul Jal Butak Hamnida
[2009.08] Mighty Mouth - Yeonaeteukgang
Endorsements
[
]
[2009] Anycall Magic Hole
[2009] Chueum Churum COOL
Magazines
[
]
Cover girl
[
]
[2010.25.03] CECI
[2012.25.08] In Style
[2012.10.09] Campus10 Magazine
[2012.1.07] CECI
[2012.7.07] CECI
[2012.27.07] CECI
[2013.20.06] Vogue Girl
[2015.07.28] ELLE
[2015.08.20] Sure
Trivia
[
]
She is a close friend of Yoo Bin from Wonder Girls. Both were trainees together in Good Entertainment and they were going to debut in the same group, Five Girls, but eventually U-ie moved to Pledis Entertainment.
She was one of the members of the never debuted and disbanded girl group Five Girls of Good Entertainment.
Used to be a trainee in Good Entertainment.
Was set to debut in a group with "Yoobin" of the Wonder Girls, solo artist "G.NA", Secret's "Hyosung" and former T-ara member and currently SPICA member "Ji Won" before moving to Pledis Entertainment.
Starred in a documentary called "Diary of Five Girls"
Appeared on MBC "Introduce Star's Friend" show as Wonder Girls' Yoobin's best friend in 2008.
Featured in Shinhwa's "Once In A Lifetime" MV
Got lots of popularity when she danced to Beyonce's "Single Ladies" on SBS Star King Show with Nichkhun (2PM) and MC Boom.
Had a small role in MBC's Drama "Queen Seon Duk" playing a young Mishil Saeju, a character in the drama.
Featured in Mighty Mouth's "Love Class" MV and performances along with 4minute's Hyunah.
Starred in MBC's variety show We Got Married on MBC's Sunday Night along with Park Jae Jung.
Has done endorsements for Anycall Magic Hole cellphone together with Lee Min Ho & Kim Hyun Joong
Endorsed Korean alcohol Chueum Churum Soju "Cool" and Korean energy drink "Vita 500".
Featured in Jo Sung Mo's "Please Take Care Of Her" MV together with Yoo Seung Ho.
Did a duet with JunJin titled "His and Her Situation", also featuring Suk Hee in 2009.
Starred in SBS Drama "You're Beautiful" as Yoo Hae Yi in 2009.
Endorsed Anycall – 4Tomorrow group project together with Ga In (Brown Eyed Girls), Han Seungyeon (KARA) & Hyunah (4minute) in 2009.
Won the "Best Newcomer Award" at MBC Entertainment Awards 2009.
Made a cameo appearance in SBS Drama "My Girlfriend is a Nine-Tailed Fox" as an art student.
Has appeared in spreads for Korean Vogue and W magazine.
Endoresed for Vivaldi Park Ocean World 2010 together with Kahi.
Plays Sung Mi Soo in tvN Drama "Birdie Buddy" in 2011, was originally scheduled to air in 2010.
Plays Baek Ja Eun in KBS2 Drama "Ojakgyo Brothers" in 2011
Made a cameo appearance in MBC daily sitcom "All My Love For You" as Yoo Jin
Released her solo track "Sok Sok Sok" featuring JR (Pledis Boys) in 2011.
Won the "Newcomer Actress Award" at the 2011 KBS Drama Awards for her role in Ojakgyo Brothers.
Goes to Sungkyunkwan University, majoring in Performing Arts.
She's the face of the group.
Her father Kim Sung Kap is the third base coach of the South Korean baseball team, Heroes.
Uee is a former swimmer. She attended Sungkyunkwan University majoring in Theatre and Drama.
Gallery
[
]
External links
[
]